#ExperienceBCN: Hotel and gastronomy in El Nacional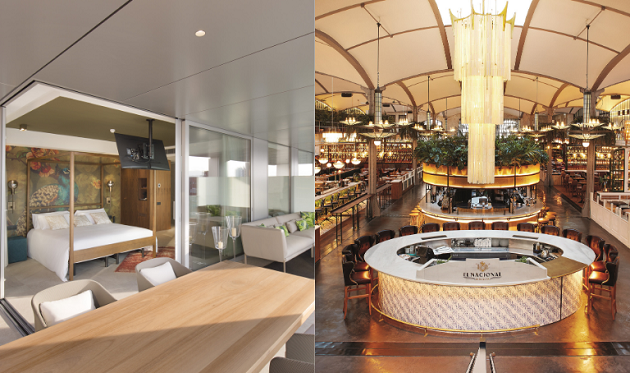 SB Hotels and the gastronomic multispace El Nacional have designed a perfect plan for you to discover Barcelona from a different point of view.
This exclusive special offer includes a 20% discount on accommodation and a €80 gift card to eat in an emblematic place full of history like El Nacional.
Hotel i

n

Barcelona

4

* and 4* superior
With this #ExperienceBCN recommendation, you will be able to stay in one of our hotels in Barcelona at a very attractive price. You will also have other advantages such as free parking and Wi-Fi. Give yourself the luxury of booking a special room, like a 'Double Room with Terrace' or a 'Jacuzzi Suite' and enjoy services such as the restaurants, the gym or, even a SPA (you will find the latter in our Hotel SB Diagonal Zero from March 31st, 2021).
Gastronomic experience at El Nacional
Traveling around the peninsula gastronomically is possible. With this special offer we include a €80 gift card so you can eat at El Nacional Barcelona. Upon arrival at the hotel, you will be given the gift card and your only "concern" will be to choose in which of the 4 restaurants of El Nacional you will eat: La Braseria, La Llotja with seafood and fish, La Taperia or La Parada. If you are more into 'pecking', you can also opt for one of the 4 specialised bars of this multispace: the Beer and Preserves Bar, the Wine, Cheese and Cured Meats Bar, the Oyster Bar or the Cocktail Bar.
Check the special offer in our hotels:
Hotel SB BCN Events 4* Sup (Castelldefels)
During these times of the pandemic and the uncertainty in the face of the unknown, we have changed, things have changed and even our cities do not seem the same. Now that we can once again begin to move around more freely, in this new normal, it is time to get back to discovering Barcelona as if it were the first time.
Enjoy Barcelona! Experience it again!
« Easter in Barcelona, ​​Tarragona, Terres de l'Ebre and Madrid with SB Hotels
Things to do in Madrid this summer »